Buy Ultimate Camping Shower | Beachbox Portable Shower Tank - BeachBox
BeachBox + Shower Tank (SOLD OUT!)
BeachBox + Shower Tank (SOLD OUT!)
Orders ship within 5 to 10 business days.
Hoorey ! This item ships free to the US
SORRY, WE'RE SOLD OUT IN THE U.S! 
For UK inquiries:

• Watersports World UK
Email: sales@watersportsworld.co.uk
For AUS inquiries:

For EU inquiries:
________________
* WE'RE ALSO EXCITED TO NOW OFFER FREE SHIPPING* (US lower 48 states)
* PLEASE double-check the BeachBox dimensions below to make sure it works for you. 
• NO REFUNDS ON SALE ITEMS
________________
The BeachBox is the ultimate portable shower and storage box. The perfect wingman for ALL outdoor enthusiasts. Perfect as a camping shower, an organizer for the gear junkie, or a person on the go needing to spray down the kid or the dog! How you use it is up to you.
When you purchase a BeachBox you're buying 4 products in one, because of its unique design:

1. 1.3g portable shower tank (Insulated slipcover and removable from BeachBox). The shower offers 4-5min of flow time (shower mode dependent).
2. Non-slip change and rinse mat (The BeachBox lid doubles as a mat)
3. Large storage tub for all your gear (including a wet|dry section and smaller removable tubs for essentials)
4. Change & Wash Box (Durable enough to stand inside and pull off your wet, muddy and dirty gear, not to mention wash your dogs and kids in)
The entire system is ergonomically designed so that the shower tank sits snugly and securely inside the BeachBox (no rolling around in your car). The storage tubs can be moved or removed to make for more space if needed, and for days when you don't need the entire BeachBox, you can travel lighter with just the shower tank and changing lid. It's very versatile.
CONTENTS & FEATURES:

- 1.3 Gallon Insulated Tank (Holds Hot Water)
- Multi-Spray Shower Gun
- Hand Pump System with Handle Lock (Easy to carry)
- Easy To Refill Screw Top
- Air Pressure Release Valve
- 7ft Durable Coil Hose
- Non-Slip Change mat
- Dry Box Area
– Small storage tubs
– Drainage plug
DIMENSIONS
- 26L" x 21W" x 18H" 
- 20lbs 
Customer Reviews
100
reviewers would recommend this product
Write a Review
I recommend this product
This is a must have for the beach or any water excursion!
I love this product. It was designed with so much in thought so it is very practical and efficient. As a surfer, underwater photographer, dog owner, avid road-tripper; I find this so useful in helping me keep things clean, having a road shower and keeping wet stuff in a bin. Things I love: + non-slip mat that is also the lid to the box + insulated shower cover + drain plug + dry section Highly recommend to anyone out there looking for a road/surf shower.
10/24/2022
Anonymous

United States
I recommend this product
The Box
Its a nice product, I probably wont use the box as often as i will use the sprayer alone. Daily surf its a little large for my car and 2 boards but overall I like it.
10/21/2022
Sarah

United States
I recommend this product
Game changer!!!
Serious game changer! It's so nice to be able to put everything I need for a surf day all in one place. Gone are the days of lugging around bags full of sand and wet clothes. The dry compartment is a life saver for packing after activity clothes. The insulated bottle is coming in clutch as the days are getting colder, the warm water is next level post surf session. Cannot recommend this product enough! Genius genius genius!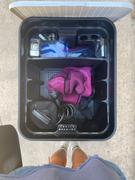 10/16/2022
Carla R.

United States
I recommend this product
Amazing
Incredible acquisition, I bought it to give it to my husband who is a surfer and it has been wonderful, with the ease that he changes and can shower when he gets out of the water. I recommend it with my eyes closed, it is of good material, everything works well. @rockawaysurfshot
Awesome!! Enjoy that warm water over there. )
10/13/2022
Kailah

United States
I recommend this product
Perfect for rinsing off after a beach day!
We have two young children and love the beach box for rinsing off the endless amounts of sand after a day at the beach! Highly recommend this product, it's so easy to use.